https://explorewithlora.com/beautiful-places-in-pakistan/
I've just spent the last month traveling through Pakistan, and am blown away by all of the beautiful places in the country. Forget everything you've heard about Pakistan in the news because I'm about to show you a side of the country that will change your view.
I was traveling through Pakistan as part of the International Entrepreneurship Summer School Program with the Institute of Business Administration in Karachi. In the coming weeks, I will be posting lots more about that experience, as well as advice and tips so you can travel in Pakistan too – because a lot of you have been asking me about it! And I have so much to share.
But let's start this Pakistan series with 10 most beautiful places in Pakistan to inspire and hopefully give you a new perspective on the country. This list is in no particular order, because how can you choose between so many beautiful places.
My participation at IESS was kindly sponsored by IBA Karachi. As always, reviews and opinions are my own.
10 Beautiful Places in Pakistan
1. Hunza Valley
Of all the beautiful places in Pakistan, Hunza completely stole my heart. This mountainous valley in the Gilgit-Baltistan region of Pakistan is often called heaven on earth, and it's not hard to see why. Surrounding Hunza are some of Pakistan's most impressive mountain ranges. These, in combination with the beautiful lush green valley beneath them, makes for breathtaking views at every turn.
For the best views in Hunza, check out these spots:
Baltit Fort
Baltit Fort is not only good for views but has an interesting history. This fairy-tale-like fort was built in the 8th Century BC on top of a hill overlooking Karimabad (the capital of Hunza district). Guided tours can be arranged for the inside of the fort, where you can get a glimpse of what life was like back then. At the top, you'll be rewarded with stunning views of the surrounding mountain ranges and Hunza valley below.
To get to Baltit Fort you will have to climb a steep hill for about 10-15 minutes through the village, but it is well worth the views. After a visit to the fort, check out the local shops in the village where you can get some great Pakistani souvenirs. They sell authentic gemstones for reasonable prices, as well as scarfs made out of Ibex (pictured below). They are SO soft!
Eagles Nest
As far as Sunset's go, there's not many places more epic then Eagle's Nest in Hunza. The name just comes from the hotel nearby, Eagles Nest Hotel, which is accessible by car. From the parking lot, it's just a short walk up to the viewpoint, where there are many rocks to sit on and enjoy the sunset. Be sure to stick around for a bit once the sun sets behind the mountains, as the sky lights up with colors, adding even more natural beauty to this already dramatic landscape.
2. Passu Cones
The Karakoram Highway is full of epic mountain ranges, but one of the most striking landmarks I came across was the Cathedral Range, also known as the Passu Cones.
The views of Passu Cones start to appear near the town of Gulmit. From our hotel, The Gulmit Tourist Inn, we were rewarded with spectacular views from just outside the hotel door.
If you drive a bit further down the Karakoram highway from Gulmit, you can get even better views. There is a safe place to pull off the highway and take some photos, marked by the words 'Passu' written on the road. At sunset, when the light hits the mountain range, the cones are particularly stunning. It's one of the most unique mountain ranges I've seen, and a highlight of the northern areas in Pakistan.
3. Khunjerav Pass (Pak-China Border)
I've always been fascinated by borders, and the Pakistan-China border was no disappointment. First all, to get to the border you have to drive through the Khunjerav Pass, which goes up to a total elevation of 4,673m (that's over 15,000 feet)! To go from lush valleys below to snow-capped mountains at the top was completely surreal. If you love road trips, this is one to add to the collection!
I was not expecting to see snow on my visit to Pakistan, especially during the summertime, but it was almost a white-out at the border!
Snow is no big deal for a Canadian like myself but it was so much fun to see how excited the Pakistanis who hadn't seen snow before were. And as always, the locals were showing their country pride with flags and songs at the border. It's not just beautiful, but a fun environment to be in!
4. Kunhar River, Naran
Naran was the first town we visited North of Islamabad, and like all of Northern Pakistan, the surrounding nature is stunning.
I loved seeing all the homes built on the side of the hills, but the main jewel of the valley is the Kunhar River. And we got to do one of my favorite activities on it: white-water rafting!
The rapids at the beginning are only class 1 and 2, so it's perfect for first-time rafters to try this sport. But warning: you will get wet! After rafting, refuel your body with local trout which is fished from the river. It's delicious!
Naran is a good place to stock up on supplies before heading North, as well as connect online. Internet was virtually non-existent after.
5. Shan Jahan Mosque
The province of Sindh in Pakistan has a rich history with some well-preserved Mughal architecture, including several world heritage sites, but the Shah Jahan Mosque in Thatta is undoubtedly the most beautiful structure.
The mosque was built by the Mughal King as a gift to the people of Thatta for their hospitality, taking three years to complete after starting construction in 1644.
Aside from the elegant design and vibrant brick colors used throughout the mosque, the geometrical details are what won me over. Walking through each room I was mesmerized by the beauty of the intricate designs.
To respect the local culture while visiting the mosque, you should cover your knees and shoulders, take off your shoes, and women should wear a headscarf.
6. Landsdown Bridge, Sukkur
The Lansdowne Bridge is a bridge over the Indus River between Sukkur city and Rohri town of the province of Sindh. It was built in the 19th century and considered a marvel of engineering at the time. The bridge is still used today and makes for a great photo. For the best views of the bridge, head to the Tomb of Seven Sisters.
We visited the bridge at sunset but I'd imagine at sunrise it is even more marvelous as the sunrise would appear over the bridge. However, during our sunset visit, there was a rainbow next to the bridge and the sunset on the other side hitting the ancient tombs, so I really can't complain. I didn't know where to keep my eyes as there was so much beauty around!
Oh, and did you know there are river dolphins you can spot in the water too? The Indus River Dolphin, one of the rarest mammals in the world, can be found in the surrounding river. How cool is that?
7. Mazar-e-Quaid (Jinnah Mausoleum)
In Karachi, you can visit the mausoleum of Quaid-e-Azam, the founder of Pakistan. The tomb is made of white marble and intricately designed both on the outside and inside, making it one of the most beautiful places to visit in Pakistan.
During our visit, we even got to take part in a guard ceremony inside the tomb to honor the founder.
The Mausoleum is not only beautiful but also a place to remember the person who was behind Pakistan's independence. Pakistan has only been a country since August 14th, 1947, after it gained independence from British rule. Next to the tomb is a small museum in which you can learn more about Pakistan's fascinating history.
I was lucky enough to be in Pakistan to celebrate independence day this year, which was such a great experience. The locals have so much pride in their country, which is something I love.
8. Lake Attabad 
When I first Googled Pakistan it was a picture of Lake Attabad that made me want to go. And when we drove by it for the first time, it was just as beautiful as I imagined.
But Lake Atabad wasn't always around. In January 2010 a massive landslide started nearby, taking off half a mountain with it, ultimately blocking river access and creating a natural dam that filled up the valley that was once there with glacial water. It actually buried part of the Karokam highway! This caused a lot of destruction to the area but what the landslide left behind is truly beautiful.
Nowadays, Lake Attabad is a popular attraction for both locals and foreigners. For the best experience, take a boat ride through the lake which can be arranged from the dock. The contrast of the glacial blue lake against the jagged mountain ranges is truly breathtaking. If you're feeling adventurous, you can also rent jet skis and explore Lake Attabad that way – it looked like a lot of fun!
The water levels have been receding so much in Attabad Lake that it's possible it won't even exist in the future. This is definitely one of the most beautiful places in Pakistan you want to visit soon!
9. Babusar Pass

report this adAnother epic stop and one of the most beautiful places in Pakistan is the Babusar Pass. At a total elevation of 4,131m, you'll want scarfs and gloves for this one! The pass is the highest point in the Kaghan Valley, Pakistan, and going so far up in elevation is a shock from the valley below.
The drive itself is an adventure, as you will be going through multiple hairpin turns, but once at the top, you can truly appreciate how impressive the pass is.
Just be prepared for the change in elevation when getting out of the car. Aside from feeling cold, you might notice that you feel short of breath. This is normal and because of the altitude. Take your time walking around, and you'll feel back to normal once you descend again.
The drive going up to Babusar pass and afterward is also stunning. Okay, pretty much driving anywhere in Northern Pakistan is beautiful. Just go!
10. Fairy meadows 
I'm not gonna sugar coat it, there's no easy way to get to Fairy Meadows. First, you will have to get to Gilgit, the capital city of Gilgit-Baltistan province in the North of Pakistan. If you are coming from Islamabad, this is around 18 hours of driving. From Gilgit, you then have to drive about an hour to Raikot Bridge where the real fun begins.
You have to take a (pretty scary) 1 1/2 hour jeep ride up a mountain, and there's no guard rail! This is honestly one of the most horrifying drives I've ever done in my life, and was told it has been named one of the top 10 scariest drives in the world! The views are beautiful, but I couldn't look out of the car much without my body going into a complete panic.
After the jeep ride, you then have to do a 2 1/2 hour uphill hike. Or, you can pay a local to take you via horse. So you're probably wondering why someone would travel such crazy distances to visit one place? Well, there is a reason so many people make the journey there: the unobstructed view of the 8,125m beast that is Nanga Parbat mountain.
Nanga Parbat is the 9th highest mountain in the world, and it truly is one of the most beautiful places in Pakistan. The views from Fairy Meadows is considered to be one of the most accessible hikes that will allow you to witness an 8,000 m high mountain without doing a multi-day trek. I mean, compared to a two-week Everest Base Camp Trek, I guess one scary-jeep ride doesn't seem that bad.
And camping at Fairy Meadows is about as good as camping goals get. You wake up with the incredible mountain range right in your face. If you don't want to camp, there are also lodges you can stay at in Fairy Meadows.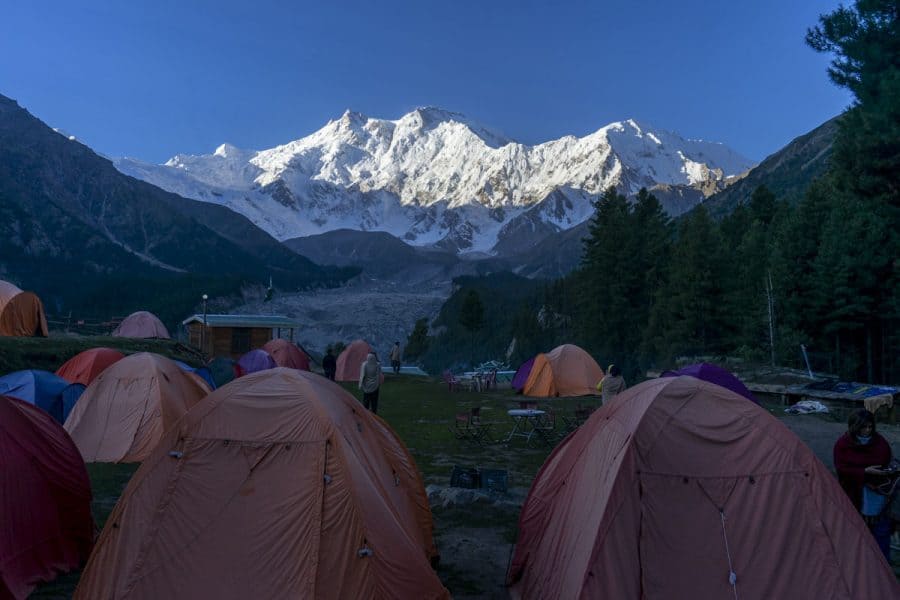 Fairy Meadows is also the gateway to the Nanga Parbat Base Camp trek, which I'll be writing an entire post about – so stay tuned!
Conclusion on the most beautiful places in Pakistan
Tell me, did you expect to see so many beautiful places in Pakistan? I know that my views of the country have completely changed over the last month, and yet I feel like I've only scratched the surface of Pakistan's beauty. Although Pakistan's tourism industry is very much still developing, I think this place is going to become much more popular over the coming years given that it's such a naturally beautiful country.
This is just the start of my Pakistan series posts. It's been a jam-packed month of adventure and I can't wait to share with you everything I've learned about this wonderful country. Pakistan's tourism industry is very much still developing, but I haven't
https://explorewithlora.com/beautiful-places-in-pakistan/ https://explorewithlora.com/beautiful-places-in-pakistan/